---
LUSTED MEN PROJECT SPACE
07/01/2021 - 28/01/2021,  Wednesday — Saturday 11h - 19h, Sunday 14h - 18h
8 rue Perronet,  75007 Paris, France
Curators : Flora Bleibt, Lucie Brugier, Salomé Burstein, Laura Lafon et Morgane Tocco
---
The New Museum of Networked Art & ALPHABET Art Centre: 01/01/2021 - 31/01/2021
Time quarantined // curated by Wilfried Agricola de Cologne
In these times of the pandemic many people become aware of the restrictions of the "usual". Those things which were taken for granted before receive suddenly an unusual status. Time seems to be paralyzed, set in quarantine – or is it just a paradigm shift?
The program of the selected videos is a composition of different aspects of time in all their contradictions according to an artistic view manifested in 13 art videos:
---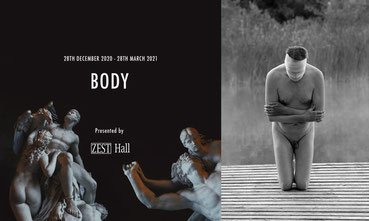 December 28th, 2020 - March 28th, 2021
ZEST Hal, UK
ZEST Hall — Round Lemon
Zest Hall is a gallery project by Round Lemon.
The purpose of this show is to make a selection of artists from all around the world that associates their practice with the exploration of the human body, including artworks that investigate sexuality, gender, identity, objectification, abjection, nature, body art, and traditions - the body as material, etc.
A work from my series "I Can Not See" is included in the exhibition
---
---
"Súbete el Cierre -arte y acción-" - Masculinities -commands and diversities-
This project is an initiative of The Master's degreeon Managment and Cultural Development at Universidad de Guadalajara (Mexico) with the participation of the magazine Memorias de Nómada (Mérida,Yuc.)
 "Súbete el Cierre -arte y acción-", on the virtual magazine Memorias de Nómada and on the virtual gallery "Historia a través de tus ojos"  21st of November via ZOOM platform at 17.00 h Mexico City time (only in Spanish) On-site method: The art work will be part of an exhibition to be presented in Spring 2021 in Guadalajara and Mexico City
---
BINNAR 2020 - Festival Internacional de Artes -
BINNAR 2020 – Festival Internacional de Artes - 5-27 Nov 2020, Vila Nova de Famalicão, Portugal
A selection of my photographic work is represented at this collective photo exhibition FREE / DOOM
10-27 Nov 2020 // CASA -MUSEU SOLEDADE MALVAR, Avenida 25 de Abril, 104,  Vila Nova de Famalicão
---
"bared " nude calendar 2021 
The motifs of this calendar all belong to my ongoing project "A State of Bared". This project focuses on topics related to the naked human body. The motifs tend more towards the classic nudes
---
BIDEODROMO INTERNACIONAL EXPERIMENTAL FILM AND VIDEO FESTIVAL
BIDEODROMO 06 October 2020 – 22 October 2020 - Bilbao, Euskadi, Spain - Different venues inside Bilbao
---
Aktionsraum 2  - Action Space 2 - at Kunstverein Ebersberg
Aktionsraum 2 at art association Ebersberger Kunstverein 
 25th of September (opening) - 4th of October 2020
Galerie "Alte Brennerei" im Klosterbauhof 6,  85560 Ebersberg (near Munich) Bavaria, Germany
Curator Peter Kees
At the opening evening on 25th September there was a video programm. Three video works of mine were screened. "Whither goest thou ", "koud slova" and "conecta – no conecta"
On the 2nd and 3rd of October 2020 I conducted two performances "Ablösen" and "Isoliert"
"Ablösen" was conducted in collaboration with Tanja Wilking (Rodinmuse), Munich and is a revised version of my live and video performance "peel off"
---
KURZstummfilmfestival! - SHORT silent film festival!
KURZstummfilmfestival! - SHORT silent film festival!
On September 26, 2020, the film festival with all selected 19 films and the award ceremony will take place at
Zeche Carl , Wilhelm Nieswandt-Alle 100,45326 Essen, Germany
---
Kodekü - (Kollision der Künste) - Collision of the Arts, Bischofswerda, Germany , 03.09.-13.09.20
 10-day art project in which artists from various disciplines and international origins come together, live and work.
---
"Cleaning rags"
- an international Mail Art exhibition, September 6th - October 11th, 2020
gallery ART FACTORY FLOX of the art initiative "Im Friese" e.V. Friesestraße 31 in 02681 Schirgiswalde-Kirschau.
---
"CURATED" BY SOCIAL NETWORKS
"Curated" by Social Networks
An project by Beam Collective, Tel Aviv, Israel in protest of censorship of Human Body in Social Networks,
29th of August 2020 – 03th of October 2020 
---
Geumgang Nature Art Biennale 2020
Geumgang Nature Art Biennale 2020   -   29th of August 2020 – 30th November 2020
Yeonmisan Nature Art Park, Geumgang International Nature Art Center
98 Yeonmisan Gogae-gil, Wooseong-myeon, Gongju-si, Chungcheongnam-do, Korea
---
SHIFT_IBPCPA : 26/08/2020_21:00-22:00 (UK time) 22:00-23:00 (Central European Time) 
PARTICIPATORY Video PERFORMANCE | 'CONECTA NO CONECTA' LIVE PERFORMANCE 'I CAN NOT SEE + INTERVIEW
---
3rd INTERNATIONAL BIENNIAL OF ARTWORKS ON PAPER
3rd INTERNATIONAL BIENNIAL OF ARTWORKS ON PAPER
 20 August 2020 – 26 September 2020
Muzej Kozare, (Museum of Kozara), Nikole Pašića bb, 79101 Prijedor, Republic of Srpska, Bosnia and Herzegovina
---
"Return" Video Art Exhibition | معرض عودة للفيديو آرت
"Return" Video Art Exhibition | معرض عودة للفيديو آرت
Thursday, 20 Aug 2020 - Friday, 21 Aug 2020 - Video Art Forum, Dammam, Saudi Arabia
 SASCA YouTube | The Culture and Arts Association channel in Dammam جمعية الثقافة والفنون بالدمام SASCA_DMM
---
DA ! Art-Award and exhibition 
DA ! Art-Award and exhibition - Düsseldorf's secular art award, 16.08.2020 – 23.08.20 / opening 15.08.2020 , 18 h.
---
20 July 2020,  5 pm  (Nepal Time) / Mcube Gallery, Kathmandu, Nepal 
---
AT TORRANCE ART MUSEUM IN LOS ANGELES, USA
My video work "isolate" is part of Seven Memorials for Humanity, which was curated specifically for TAM by Wilfried Agricola De Cologne. "isolate:" is presented in the first program in the series Corona! – Shut Down? from 18th July to 24th 2020. 
---
Xposed - Naked and Not Afraid
"Xposed - Naked and Not Afraid". , 04.07.2020 – 25.07.2020
Knox Contemporary Gallery of Art, B03-Main Hall, Eau Claire Market, Barclay Parade, Calgary, Alberta, Canada
---
OMVA 2020 One Minute Video Art 
My video work BLACK with Alena Chernova is included at
OMVA 2020 One Minute Video Art by Artpro – art initiative - 15.06.2020 – 30.06.2020, Dhaka, Bangladesh
---
Biblioteket Frederiksberg, Falkoner Plads 3, 2000 Frederiksberg, Denmark / 29.05.20 – 30.06.20  / 10.00 h – 13.00 h daily
---
HERBARIUM
29.05.2020 – 20.06.2020
ECTH INK art space (ATHENS ART ENGRAVING CENTER- PANDOLFINI &SIATERLI), Argyroupoleos 16, Lycabettus , Athens , Greece
---
The project  is integrated in NewMediaFest2020 as an active corporate part. Due to the Corona crisis, long-standing habits have no value any longer. The shut down is reducing social contacts to a minimum.
---
29.04.2020 – 29.05.2020
feldfünf e.V., Fromet-und-Moses-Mendelssohn-Platz 7–8, 10969 Berlin, Germany
---
20x20 art on paper exhibition.01.05.2020-16.05.2020 Christine X Art Gallery, Sliema, Malta.
---
QuAr (T) antine Performancekokkenet 
Performancekokkenet : QuAr(T)antine
Performance Køkkenet , Copenhagen, Denmark,  5th of April, from 18.00. Link: https://youtu.be/LrWfFrB3m-Q
---
Images of mine are publish in the most recent edition the March MASS with the theme of the month MATRIARCHY. The images are from the video works bare to you and me, Two Lovers and a photo work from the portfolio Shadow Woman 
---
On 03/03/2020 I launched a new additional website beside my other websites. The new site focus more on my general photographic and digital printmaking works. 
Link to the launched website : https://www.johannesgerard-images.com
---
Hope is maybe Touring exhibition "Hope is maybe"
01/03/2020 – 29/03/2020
Ev. Reglerskriche, Bahnhofsstrasse, Erfurt, Germany, Curator Michael Härteis. Since 2018 this exhibition touring through Germany.
---
In conjunction with the artistic collective Semiosphera which promotes meetings and presentations with the itinerant pavilion IN ABSENTIA as part of The Wrong, Biennale of Art Digital (fourth edition)-
 6th of February at the Cineporto Di Foggio , Via San Severo, KM 2,00, 71121 Foggia, Italy
A Touch of Eros in Tehran
A TOUCH OF EROS at Eye's Walk Digital festival at Paadmaan Video Event - Tehran, Iran
10th of January 2020 at Back Box Art Center, Tehran, Iran
---